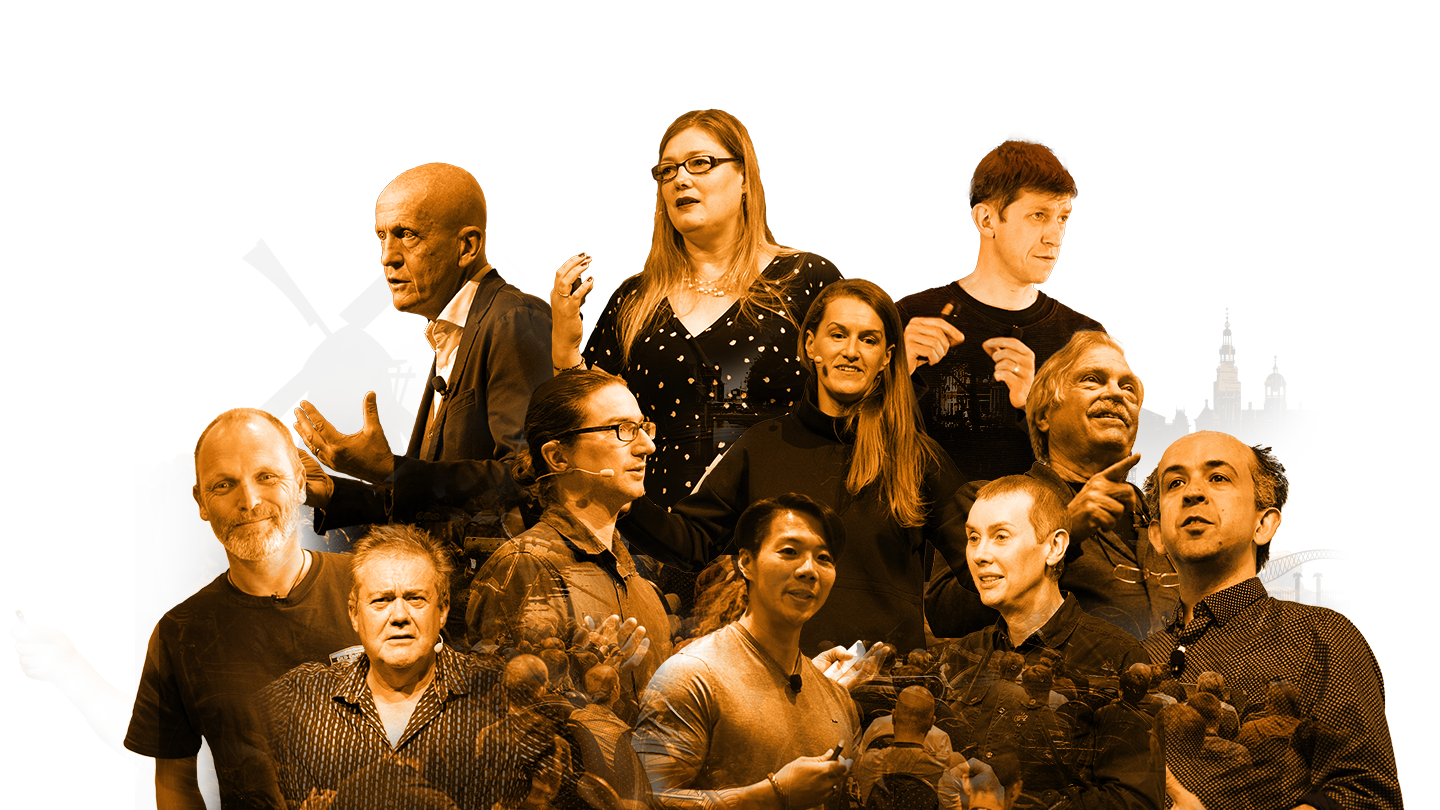 Get Your Night Owl Pass
While December may seem like a long way off, now's the best time to get your ticket. Save 10% with a Night Owl Sale pass until November 5!
We're also making all tickets available at no risk: your pass is eligible for a full refund if this conference is unable to take place in December due to COVID-19.
Year-Round Masterclasses
We've worked with each of our world-renowned speakers to create hands-on, interactive sessions that ensure maximum attention and engagement. Classes are packed with presentations, class discussions, social breaks, small group exercises, training material and in-depth Q&As. A higher quality training session is hard to find!
Masterclasses are held throughout the year. Check out upcoming masterclasses here.
Our Speakers
GOTO Amsterdam is all about the talks. We seek the best and brightest speakers from around the world and let them shape the agenda — they're the experts after all.

The 2020 program is now live!

Join the Crew
Get the chance to mingle with the best and brightest of our industry!
As a GOTO Amsterdam CREW member, you'll work for approximately 12 hours during the conference (session monitors, info desk helpers, etc.), and in return, you'll get to attend the rest of the conference sessions and social events for free (when you're not working).
Sign Up to Join the Crew
Interested in sponsoring GOTO Amsterdam 2020?
Global Partners
Gold Partners
Silver Partners
Startup partners
Community and Media Partners
As a GOTO partner, you'll have the chance to engage with developers, architects and engineering managers eager to learn more about what you have to offer.
We'll give you the ideal platform to share your story, showcase your technology and generate quality leads.
Email us so we can discuss how you can get involved with GOTO Amsterdam 2020.
Watch Videos from GOTO Amsterdam 2019
We can hardly wait for GOTO Amsterdam 2020, but in the meantime, you can watch videos of sessions from last year's conference on our YouTube channel along with thousands of videos from all of our past conferences.
GOTO Amsterdam is held at Beurs van Berlage
The Beurs van Berlage is located in the historic center of Amsterdam, opposite the Central Station and around the corner from Dam Square. It was designed as a commodity exchange by architect Hendrik Petrus Berlage and constructed between 1896 and 1903.
The building is made of red brick with an iron and glass roof and stone piers, lintels and corbels. Its entrance is under a striking 40m-high clock tower, while inside lie three large multi-story halls formerly used as trading floors, with offices and communal facilities group around them.